One More Gift 2023
No Child Without A Gift This Christmas!
We need your help to provide gifts to children who would otherwise not receive a present at Christmas. 
With the amazing support of our donors, 790 children were provided with gifts in 2022. We are expecting even more families will be in need of support this year.
We expect up to 1,500 children will need our support this Christmas.
With your help, no child referred to us through our Christmas Referral scheme will go without a gift this Christmas! 
You can make a BIG difference by buying and donating a gift.
Gifts can be for a boy or a girl of any age between 0-16. We would also be grateful for gifs for mums, dads and teenagers too. All we ask is that the gift is new and unused. Please drop it unwrapped at KidsBank and we will gift it to a family in time for Christmas.
You can drop off gifts at our KidsBank Hub:
Monday – Thursday between 10am – 3pm 
Friday between 10am – 12pm
Need some inspiration?
Not sure what to buy? Why not visit our Amazon Christmas Wish List via the link below.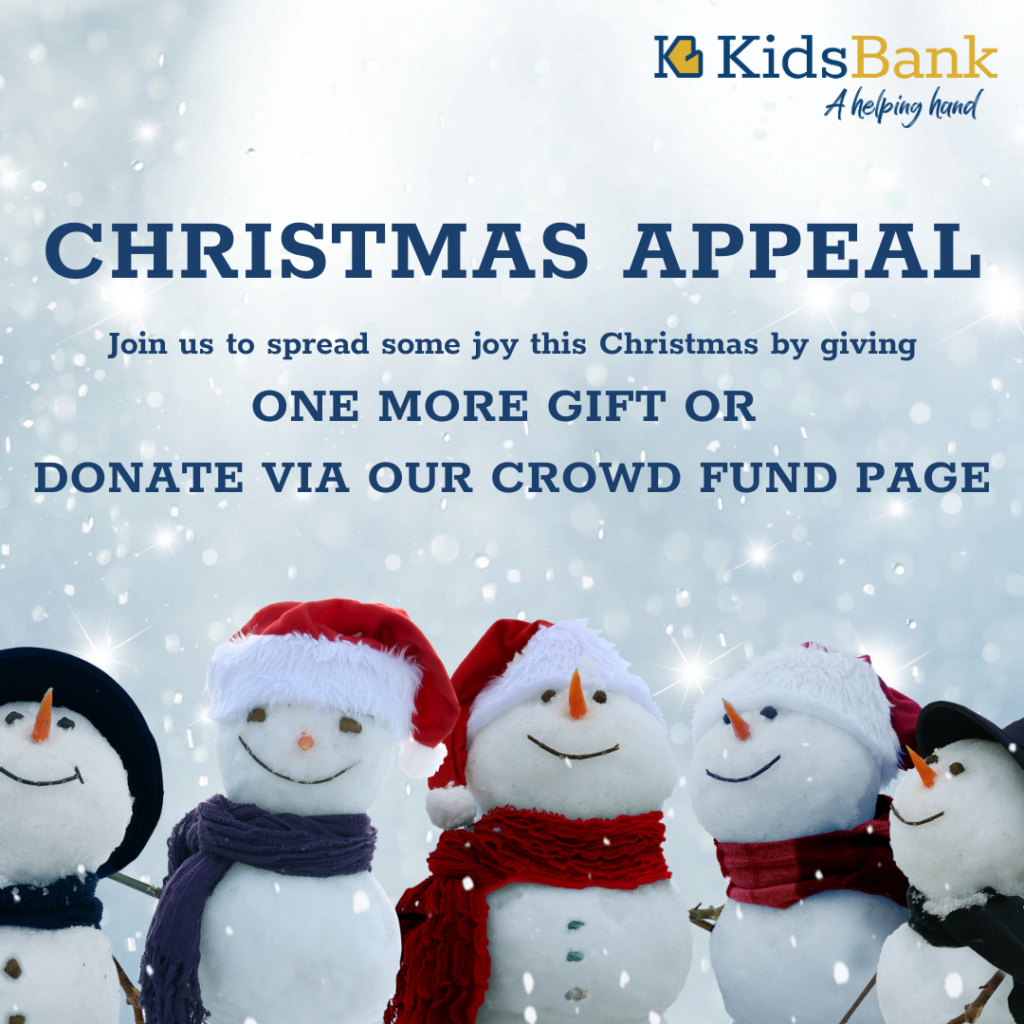 Make a Donation to our CROWD Fund
You can make a donation to our our Christmas Appeal on Spacehive!
This year you can make a donation to our Christmas Appeal by visiting our Spacehive page. Please follow the link below and click the Back this Project button to donate. 
Donate for FREE as you shop

Whenever you shop  online you could help raise FREE donations for KidsBank using easyfundraising!
There are over 7,000 brands on board ready to make a donation – including eBay, Argos, John Lewis, ASOS, Booking.com and M&S – and it won't cost you a penny extra to help us raise funds.
All you need to do is:
1. Go to our easyfundraising page
2. Every time you shop online, go to easyfundraising first to find the site you want and start shopping.
3. After you've checked out, the brand will make a donation to KidsBank at no extra cost to you whatsoever!
There are no catches or hidden charges and KidsBank will be really grateful for your donations! Thank you for your support.