We collect new and pre-loved items for babies and children – equipment, clothes, toys and toiletries, and distribute them to struggling families across Cheshire and Flintshire.
WE ARE CLOSED FOR PRE-LOVED DONATIONS 
FROM 19TH NOVEMBER UNTIL FURTHER NOTICE
(31%) children in the UK are living in poverty
items gifted to KidsBank families to date
families are going without essentials
The families KidsBank support are facing a range of challenges including homelessness, unemployment, high living costs and domestic violence.
Our mission is to alleviate the impact of childhood poverty by providing practical help as quickly as possible.
KidsBank is a faith based organisation and registered charity (1190234) who support families in need.
A year ago, my brother lost everything in a fire in his home. Within 3 hours the police came with bags of clothes and books for the 3 younger children. My niece age 10 at the time, had been so upset to lose her 'library' she had built up, but the books you gave her were the start of her new bookshelf. She picked up a book among the chaos and disappeared in a new world you'd given her.
Thank you so much for the delivery you brought on Saturday! I couldn't believe how much there was. I'm literally introducing the potty with my daughter now too, so that book was really, really helpful and fun to read with her.
Thank you so much, this really helps us to free a little extra for the ridiculous energy prices. I really don't know how people are coping. I really can't thank you enough for everything you do. You've certainly made this season change a little bit easier on us parents.
I just wanted to say thank you so much for all the help you've given my family by providing so much for my son! And thank you for helping me with toiletries for me and my partner. You are doing an amazing job!
One of my ladies was moved to tears by her box last week. Her little girl just kept picking up the dresses and saying, "Ooh Mummy, so pretty". Keep doing what you're doing, it's making a huge difference to so many lives.
This KidsBank is a brilliant and much-needed concept. Lots of parent groups are talking about KidsBank now - this is great! Well done on your hard work and all the very best to the families who you can work with!
I have just received my box and would like to say thank you for everything inside! Both my kids now have enough clothes until next winter! My kids love the books and toys. Thank you so much for helping.
I would just like to send a message of great thanks for delivering the referral for my children today. I am so very grateful for your kindness, help and support. It's brought a tear to my eyes. Thank you very much.
A HUGE thank you to your whole team for the amazing bag of new, warm bedding and hot water bottle for our lovely little 5 year old Ukrainian guest. Our family were overwhelmed when they opened the package in their new home. They were especially touched by the beautiful little extras you put in. You and your donors really do change lives.
I just wanted to say thank you for my son's school clothes bundle. Absolutely fantastic service, thank you so much again.
I just wanted to say thank you ever so much for all the stuff, I'm actually crying with how kind and thoughtful you've been. Kids are happy. Thank you again from our family.
My daughter was going to be getting so many presents from family so we asked guests to make donations to KidsBank Chester instead.
You are doing a great job, ladies and we are very happy to be able to support you.
All the latest news from KidsBank…
Huge thanks to the wonderful Tryfan, Kelly, Jackie and Wene for choosing to join us here at KidsBank for your Corporate Volunteering Day.   We're so
Read More »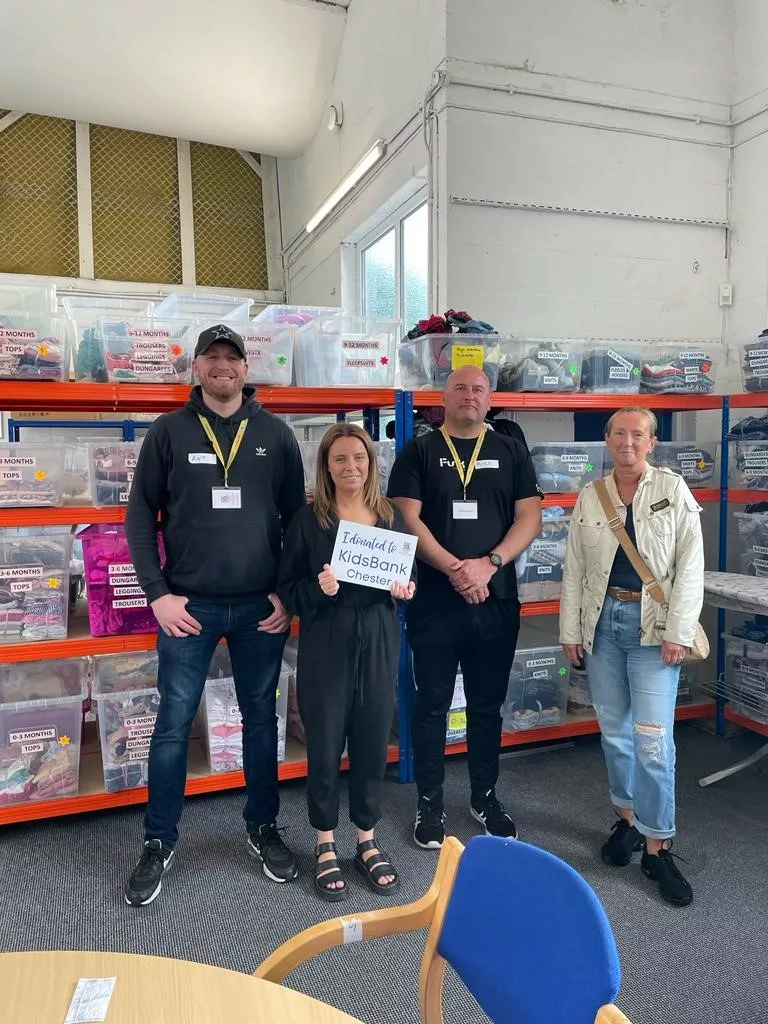 Thank you to Alex, Ant, Mike and Kate  for joining us at KidsBank today from Barclays. We were so grateful for your help in uniform
Read More »
Absolutely brilliant morning showing the wonderful Sam Dixon MP around the KidsBank Hub. Her understanding of current needs of local families was so clear! We're
Read More »
A big thank you to our awesome supporters and donors who are too numerous to mention. We are really grateful for your kind support and encouragement.